Englund Marine | BOAT COVERS WITH WALK-THRU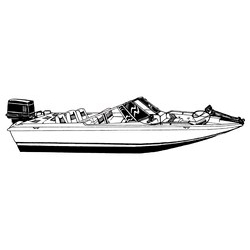 BOAT COVERS WITH WALK-THRU
The Carver Styled-to-Fit Boat Covers are designed for Fish and Ski Style Boats with walk-thru windshields, and provide coverage for trolling motors and depth finders while protecting against the elements. They have a 1/4" heavy duty shock cord sewn into the hem for a snug fit with double stitch construction for lasting quality and a braided tie-down rope for storage only.
Not sure what size/style you need? Use the Carver Cover Selector link at the bottom of this page and follow the directions to find the right cover for your needs.
Features:
Fabric: Double Duck or Performance Poly-Guard
Grade: Good
Color: Haze Gray
UV and mildew resistance
Breathable construction allows interior moisture to escape
CENTERLINE
BEAM
CRV77316
16'6"
86"
CRV77317
17'6"
90"
CRV77318
18'6"
92"
CRV77319
19'6"
94"