Englund Marine | CHEM SHARP JAR 5 OZ.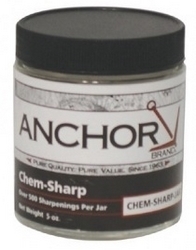 CHEM SHARP JAR 5 OZ.
Item Number ANC-CHEM-SHARP
Mfg. Part Number 100-CHEM-SHARP
The Anchor Brand Chemical Sharpener is economical with over 500 perfect sharpenings, without grinding, without leaving work area, and without contaminating Tungsten. It eliminates the probability of chipping, extends life of points 2 to 4 times and produces a perfect point every time. The Tungsten points sharpened by grinders are subjected to chipping and over grinding.
Features:
Jar size: 5 oz
Usage: Tungsten Points