Englund Marine | ESTERPRO ROPE 5/8"x600'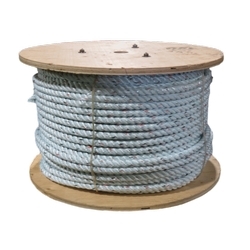 ESTERPRO ROPE 5/8"x600'
Your Price Call for Price
Item Number CG-REPTL58
Mfg. Part Number 5/8" ESTER PRO
Esterpro Trailer Lay Rope is an environmentally friendly lead free rope which is constructed by using continuous filaments of high tenacity Polysteel fiber as a strong inner core and enveloping them with perfectly matched polyester fibers. It is typically used as crab pot bridle rope.
Features
5/8" x 600' Coil'
18% elongation
Excellent UV protection
Superior abrasion resistance
Stores wet
Resists rot and mildew
Specifications:
| PART # | SIZE | TENSILE STRENGTH (LBS) | LAY |
| --- | --- | --- | --- |
Items noted as Call for Price are sold by 600' spool.