Englund Marine | IMPACT DRIVER SET 3/8" 6PC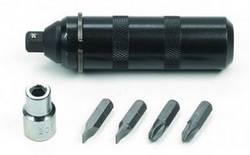 IMPACT DRIVER SET 3/8" 6PC
Item Number KDT1140
Mfg. Part Number 1140D
The GearWrench 6 Piece 3/8" Impact Driver Set is designed to free frozen bolts and screws or tighten bolts by twisting the tool while striking it with a hammer.
Set Includes:
Hand driver
3/8" Square drive adapter for 5/16" hex bits
Phillips bits: No. 2 and No. 3
Slotted bits: 5/16" and 9/32"