Englund Marine | ROCK FISH BLACK 21"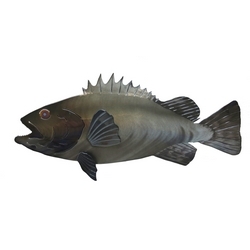 ROCK FISH BLACK 21"
Item Number SMG-RF21B
Mfg. Part Number RF21B
The Steel Images Rock Fish is torched metal art. Each piece is individually cut from steel, heated to bring out the color, and powder coated for protection, making the finished metal work a lovely addition the interior decor. Loop(s) on the back allow for easy wall mounting. Color may very slightly from image due to the uniqueness of manufacturing process.