Englund Marine | 83/45 SERIES 2 KEYABLE PADLOCKS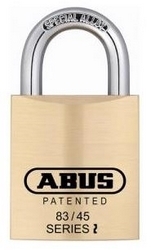 83/45 SERIES 2 KEYABLE PADLOCKS
Abus 83/45 Series 2 Keyable Padlocks are self-locking, rekeyable padlocks with solid brass bodies and 6 locking elements. They have a Z-Bar 2-in-1 function that converts the keyway between key-retaining and non-key-retaining quickly. Each padlock also features a paracentric keyway to resist professional picking. The shackles are made of hardened steel with NANO PROTECT coating for corrosion resistance and can be changed out when damaged.
Features (Click to expand):
Size: 1-7/8"W x 3-15/64"H x 51/64"D
Horizontal clearance: 15/16"
Vertical clearance: 63/64"
Shackle diameter: 5/16"
Cylinder Keyways (Click to expand):
ABL83628: 200 Kwikset
ABL83638: 300 Schlage C 6-5 Loaded
00P