How To Pick A Life Jacket/PFD
Englund Marine is committed to keeping you safe while on the water and Life Jackets are a big part of that. Finding and wearing the right life jacket (aka Personal Flotation Device - PFD) is the most important thing you can do to ensure you and your loved one's safety while boating, fishing, or working on and around the water.
REMEMBER: The best life jacket is the one you will wear!
Keep reading to learn how to make the right choice for your on-the-water activities.
Reading The Label (New)
The U.S. Coast Guard removed the "Performance Type" codes (Type I, II, III, IV, V) which corresponded to a certain designated use, and replaced with a system using "Performance Levels". The new labels also include a "turn/no turn" icon and updated activity warning icons.
These new labels are designed to be easier to read with clearly identifiable icons and less wording. They also provide label harmonization to make them more universally understood and accepted.
Below is a breakdown of the new labels that will be starting to appear in stores. During this transition time, you will see both old and new labels available. Life jackets with the new labels will come with a helpful guide to understand the new icons. Note: Old labels are still valid as long as the device is serviceable.

Size: Life jackets are sized by weight and (most of the time) chest size. These size categories have broad range, so life jackets come with adjustable straps to ensure a snug fit so the device doesn't pop up or slip off when in the water. If you are unsure of what size you need, try it on! A good fit is secure, comfortable and adjustable.
NEW Performance Level: This new icon is based on buoyancy The lower the level number provides mobility, comfort and style and are intended for near shore/calm water activities. Higher level numbers offer greater flotation, turning and stability in the water and are for offshore activity where more time may be needed for rescue.
The icon shows the level number in bold. Level 70 is the most general purpose life jacket level and is closest to Type III in the old labeling system. 70 Newtons = 15 lbs. (apx) of flotation. Level 70 is also the lowest level for USCG approval. It also shows a picture or a person floating in calm wavy lines with an extended hand and dock in the background. The higher the level number, the bigger the wavy lines get and the further away the background is in relation to the person.

NEW Turn Ability: The arrow icon indicates if the life jacket is likely to turn an unconscious wearer face up in the water*. Level 70 life jackets can have either turn or no turn designations to help the wearer pick the life jacket that best fits the application. Higher buoyancy levels, coupled with turning ability will turn and hold the wearer in a safe position with or without additional action by the user. See below for full breakdown.

Always test your life jacket and familiarize yourself with its turning ability before first use.
NEW Warnings: Shows what the life jacket is not appropriate for as well as intended uses

Approvals: The approval panel indicates that the device has been approved by the United States Coast Guard and Transport Canada. It also includes approval codes, testing laboratory certifications, manufacturer's name, contact info, device lot and model numbers.
Directions & Care/Maintenance: Includes information on care and use of the device including how to clean and dry the device, how to adjust for a secure fit, and how to check for damage.
Performance Levels At A Glance
Click here for a printable version of this table.
---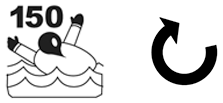 • Off shore waters with waves
• Longer time to wait for rescue
• Will turn most people from a face down position and hold them in a safe position with no additional action by the user to maintain the position
• Provides legacy Type I performance
---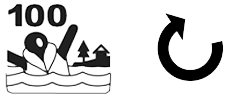 • Calm or sheltered waters
• Some time to wait for rescue
• Will turn most people from a face down position
• Provides legacy Type I performance
---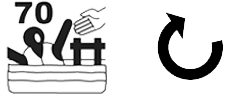 • Calm or sheltered waters
• Close to shore, or help is near to hand
• Will turn most people from a face down position
• Provides legacy Type II performance
---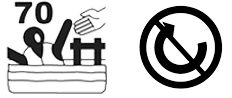 • Calm or sheltered waters
• Close to shore, or help is near to hand
• Provides legacy Type III performance
---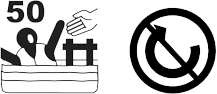 • For smooth and partially smooth waters
• Intended for use by strong swimmers who are near to bank or shore, or have help and a means of rescue close at hand
---
• Designed to be thrown to an overboard person as as supplemental buoyancy
• Not for unconscious persons, non-swimmers or children
• Provides legacy Type IV performance
---
• Special use device that met either legacy Type I, II, or III standards
• Check label for specifications
---
*Turns most people. Test in water before first use.
Life Jacket Design Types
Inherent: These life jackets are always buoyant and are offered in a variety of performance levels. They are adjustable and usually made of foam that floats automatically without any action required by the wearer. These life jackets are equipped with multiple buckles and clasps to keep them secure and come in a wide range of styles and colors. They can be bulky, but are easy to maintain.
Inflatable: These devices use activated gas canisters to inflate chamber(s), and can be manual or automatic. Automatic inflatables inflate upon immersion in water, while manual inflatable jackets activate when the wearer pulls on the inflation tube. They can be one or the other or a combination of both. These life jackets are low profile, but require regular maintenance on the canister and inflatable chambers. Not recommended for weak or non-swimmers.
Hybrid/Multi-Chamber: A combination of flotation and inflation, these devices provide immediate (Level 50) buoyancy that is supplemented with an inflatable chamber(s). The inflation gives the user additional support that can include turning and freeboard. Read the label for full Level Performance and be aware of the performance ability of the device for the intended application.
Throwable: Like the name says, this device is meant to be thrown vs worn. They are designed to be thrown to an overboard person or to supplement the buoyancy of a person overboard. Common styles are float cushions and throwable life rings. These devices must be available for immediate use in case of an emergency. Not for unconscious persons, non-swimmer or children.
Special Purpose: These devices are designed for specific activities and often require extra training or action by the user. Some features may be added, increased or adapted, such as: extra buoyancy in white water rafting, additional hi-visibility for fire fighting/rescue/law enforcement, inflatable belt pouches or manual inflation devices. Be aware of the performance ability of the device for the intended application.
---
Sign up for our email list and get Specials, announcements, class opportunities and more delivered directly to your inbox! Click here to be added to our email list.