Life Raft Certification
Raft Certification and Battery Replacement Services
In 1992, to better service the safety needs of our commercial fishing customers, Englund Marine opened our Warrenton, OR Raft Shop where we sell new rafts and provide annual certification services. Our Raft shop is a U.S. Coast Guard certified service center servicing Zodiac, Crewsaver, DBC and Elliot rafts.
We do not sell life rafts online and ask that you call (503-861-3783) and speak directly with one of our Raft Shop crew about the right raft for your boat and about our life raft certification services. They will be happy to provide a price and a turn around time for your life raft certification. Beyond being well trained and certified, we sincerely care about the safety of our customers and we know that the quality of the work we do on each and every raft plays a big part in keeping our customers safe and alive out on the water.
Free Shipping! A great benefit of having your raft certified at Englund Marine is that you can save on the cost of getting your raft to and from our raft shop by dropping off your raft at any Englund Marine retail location. Once you have filled out the appropriate paperwork with our store crew, our company truck will deliver the raft to our Warrenton facility and return it to the drop off point upon completion and there is no charge for freight. Rafts may also be dropped off at the Raft Shop in Warrenton. Our stores are located in: Westport and Ilwaco, WA; Astoria, Newport, Charleston, OR; Eureka and Crescent City, CA.
ACR EPIRB and PLB Battery Replacement Services
Our Englund Marine Raft Service Center is also an ACR factory authorized Battery Replacement Center (BRC). Every 5 years the battery of any EPIRB, ELT or Personal Locator Beaconneeds to be replaced by an ACR Certified Battery Replacement Center. Our trained technicians will change the battery and then perform full functional testing on the unit to insure that the unit will last another 5 years in the field. Englund Marine also sells a full line of ACR EPIRBS, PLBs and ACR accessories in our stores and online.
Included in an EPIRB Service:
EPIRB Battery Replacement / PLB Battery Replacement
Printed Test Report
Reprogramming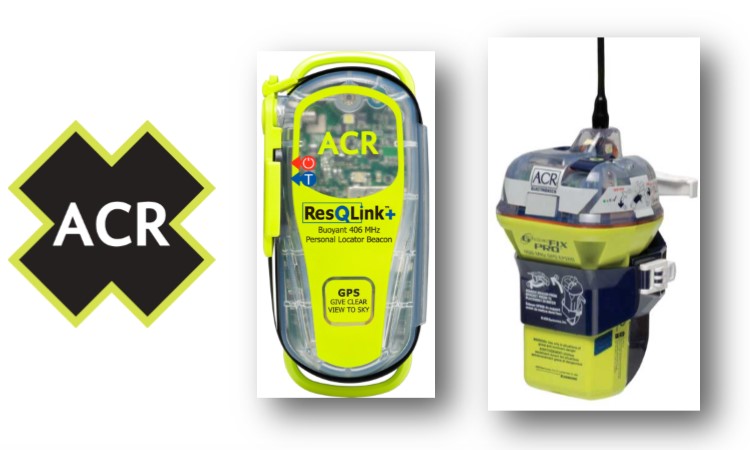 Hammar Hydrostatic Releases (HRU)
The Hammar H2O Hydrostatic release unit is designed for life rafts from 4 to 150 persons. It consists of a double looped white rope line, a release mechanism and a Red Weak Link.
The strong white rope is secured to the deck or life raft cradle and then attaches to the life raft lashing with a slip hook. If the ship sinks, the water pressure will (within 4 meters) activate the sharp knife which cuts the white rope and the life raft will float free. As the ship sinks, the life raft painter line will be stretched and the life raft starts to inflate. The Red Weak Link breaks and survivors can board the floating life raft.
The Hammer H20 needs no annual service maintenance or spare parts, however it must be replaced 2 years from the month of installation on board. It must also be marked with its expiry date in order to be approved.

Other Survival Gear Available at Englund Marine
Englund Marine carries a wide variety of other commercial grade survival gear, including EBIRBS, PLBs, signal lights, SOLAS flares, survival suits, flotation, rain gear and much more. Stop in to one of our stores or look online under "Safety" and "Survival Gear and Life Rafts" for our full assortment.
---
Sign up for our email list and get specials, announcements, class opportunities and more delivered directly to your inbox! Click here to be added to our email list or text EMIS1944 to 22828 to sign up.