Englund Marine | 83WP/53 KEYABLE PADLOCKS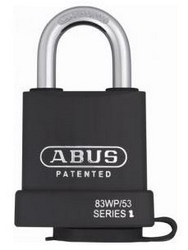 83WP/53 KEYABLE PADLOCKS
Abus 83WP/53 Series Keyable Waterproof Padlocks are self-locking, rekeyable padlocks with hardened steel bodies, protective weather covering and a snap-in-place keyhole cover. They have a Z-Bar 2-in-1 function that converts the keyway between key-retaining and non-key-retaining quickly. The shackles are also made of hardened steel with NANO PROTECT coating for corrosion resistance and can be changed out when damaged.
Features (Click to expand):
Size: 2-1/4"W x 3-13/16"H x 1-21/64"D
Horizontal clearance: 59/64"
Vertical clearance: 1-7/64"
Shackle diameter: 5/16"
Cylinder Keyways (Click to expand):
ABL83922: Kwikset
ABL83923: Schlage C 6-5
00P