Englund Marine | ADULT TROPIC LIFE VESTS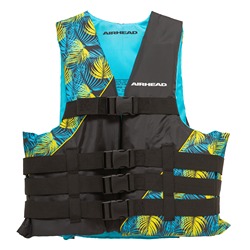 ADULT TROPIC LIFE VESTS
Airhead Adult Tropic Vests are closed-sided vests with soft UV and stain resistant 200-denier polyester shells with a bright tropical print and lightweight poly-E floatation inside. These vests feature 3 belts with side release buckets. USCG Approved Type III / USCG/Transport Canada Approved Level 70 (no turn).
USCG has changed their labeling from Type Codes (Type I through Type V) to Performance Levels. These new labels are currently being phased in and your new life jacket may have the new or old labels during this period. The new label does not make the old labels obsolete.
Men's Life Vest Size Chart (Click to expand):
X-Small: 32.5"-35", 90+ lbs.
Small: 35"-37.5", 90+ lbs.
Medium: 37.5"-40", 90+ lbs.
Large: 40"-42.5", 90+ lbs.
X-Large: 42.5"-45", 90+ lbs.
2X-Large: 45"-47", 90+ lbs.
3X-Large: 47.5"-50", 90+ lbs.
00P