Englund Marine | AMITA PROP AL 4B 13.75" 15 RH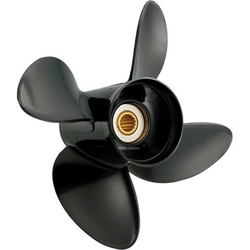 AMITA PROP AL 4B 13.75" 15 RH
Item Number SOL3413-138-15
Mfg. Part Number 3413-138-15
The Solas Amita 4 Aluminum Propeller is a high thrust propeller that features a wide blade design and is for use with 4-stroke engine applications. This propeller has increased static thrust for heavy loads and utilizes a squeeze casting process that produces an almost non-porous propeller with a fine grain size. It has an anti-corrosion 4-paint layer finish that has been tested for more than 500 hours in salt water. Direct fit propellers do not require a hub kit.
Click on the "Solas Prop Finder" link at the bottom of this web page to find the correct replacement propeller by engine manufacturer, HP, model and year.
Specifications (Click to expand):
| SERIES | GEARCASE | EXHAUST | SPLINE |
| --- | --- | --- | --- |
| D+ | 4-1/4" | Thru Hub | 15 Tooth |
MATERIAL
# BLADES
DIAMETER
PITCH
ROTATION
Aluminum
4
13.75"
15"
Right Hand