Englund Marine | B/N INFLATABLE W/CONSOLE COVERS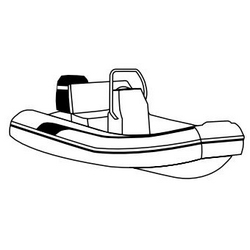 B/N INFLATABLE W/CONSOLE COVERS
Carver Styled-to-Fit Blunt Nose Inflatable Boats with Center Consol Cover will fit console heights up to 36" and covers the motor as well. It is constructed with 8oz Performance Poly-Guard polyester that has a high tear strength, UV/mildew resistance and breathable.
Not sure what size/style you need? Use the Carver Cover Selector link at the bottom of this page and follow the directions to find the right cover for your needs.
Features (Click to expand):
Color: Haze gray
Grade: Superior
Specifications (Click to expand):
PART #
CENTERLINE LENGTH
BEAM WIDTH
CRV-INFCC10BN-P10
10'6"
66"
CRV-INFCC12BN-P10
12'6"
70"