Englund Marine | BOLT STYLE LACING SS 24"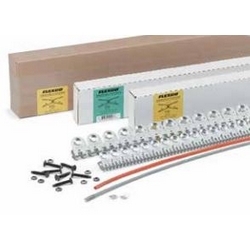 BOLT STYLE LACING SS 24"
Item Number FLE375XSJ24SSC
Mfg. Part Number 375XSJ24SSC
The Flexco Bolt-Hinged Complete Fastener Joint "J" Carton is a continuous stainless steel joint with bare stainless steel cable and fasteners. It is ideal for conveyor belt applications that are subject to frequent length adjustments and require a high strength splice. When needed, the joint can be separated by removing the hinge pin.
Features
Belt width: 24"
Belt thickness range: 1/4" - 13/32"
For belts mechanical fastener ratings up to: 190 P.I.W.
Recommended min pulley diameter: 6"
Carton Includes:
(2) Fastener strips
(1) Gauge pin
(1) Hinge pin
(2) Hinge pin washers
Filler tubing
Required piloted bolts, nuts and clips