Englund Marine | CHARLIE'S CHARTS - ALASKA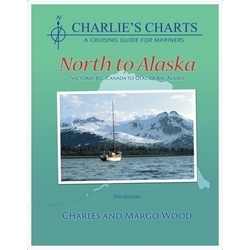 CHARLIE'S CHARTS - ALASKA
Item Number BKS-CHC005
Mfg. Part Number CHC005
The Charlie Charts North to Alaska is a cruising guide that provides navigation information for a boater departing from Victoria and traveling along the British Columbia and Southeast Alaskan coasts following the protected waters of the Inside Passage to Glacier Bay, Alaska. It is divided into eight sections with full-color photographs and a sketched chart indicating marinas or anchorages where a cruising boat with a speed of 6 knots can find moorage as it travels along the coast.
Each location has a detailed sketch and description of a safe approach, recommended anchorages, and shore facilities. It has a customized weather map that provides excellent information. For the cruisers that are unable to make the entire trip to Alaska, shorter trips to spectacular areas on the coast are described such as to Princess Louisa Inlet, Desolation Sound, Broughton Archipelago, Fiordland Recreation Area, Kitimat, and the Kitlope.
Features (Click to expand):
Fuel facilities seen at a glance on every "chart" F
Pump-out stations identified on every "chart" P
Updated marina websites, email addresses and phone/fax numbers
Included in this guide are answers to questions like: "Where are the artificial reefs? Where are sunken vessels? Where is the sunken Boeing 737?"