Englund Marine | COMPACT FAN 12V WHT 7"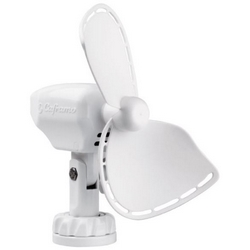 COMPACT FAN 12V WHT 7"
Item Number CFR747DC
Mfg. Part Number 747DC-WCS
The Caframo Ultimate 12 Volt DC Fan has a 7" Finger Safe blade that does not require a protective grill and has a shock absorbing leading edge that flexes when it is stopped. It has an adjustable tilting head and comes with two mounting options: permanent or removable suction cup. This fan also comes with a lighter plug adaptor.
Features (Click to expand):
2 Fan speeds
Product Size: 7"W x 9"H x 5.5"D