Englund Marine | DANIEL BOONE GRILL WIFI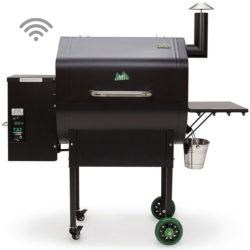 DANIEL BOONE GRILL WIFI
Item Number GMG-DBWF
Mfg. Part Number DBWF
The Green Mountain Grill Daniel Boone WiFi Pellet Grill connects over WiFi to allow the user to monitor and control the grill from a mobile device and features a digital control and Sense-Mate, a thermal sensor that monitors the ambient temperature that brings the grill up to temperature quickly even during cold weather. The pellet hopper holds up to 17 lbs. of pellets and is equipped with an high RPM auger for consistent pellet feed from the hopper to the Venturi-style firebox for maximum heat distribution and has 12V direct power for fast and more efficient starts and power consumption. It also has a positive pressure, adjustable fan to prevent burn-back and can be run in Fan Only Mode with an automatic shut-off to blow ash out after grilling. This grill is made of steel with a large 27" x 16" cooking surface, peaked lid for stand-up cooking and a variety of accessories including a meat probe, grease bucket, all terrain wheels and convenience tray.
Features (Click to expand):
Size: 51"H x 56"W x 24"D
Weight: 155 lbs.
li>
Cooking surface: 458 sq.in.
Lid clearance: 13.5"
Hopper capacity: 17 lbs.
Voltage: 110V
Wattage: 240W start / 60W cont.
Temp range: 150° - 500°F
RPM:

Auger motor: 4.7 ~ 5.2 RPM
Fan motor: 0.45A / 4,100 RPM

Material:

Grease tray: 12 Gauge steel
Lid: 13 Gauge steel
Stainless steel lid: 14 Gauge steel
Body: 14 Gauge steel

Igniter: 110V / 240W
Igniter (Hot Rod) diameter: 0.625"
004