Englund Marine | FLAP DISC 769F 4-1/2"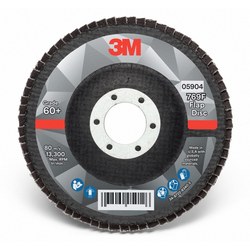 FLAP DISC 769F 4-1/2"
Item Number MMM05904
Mfg. Part Number 05904
The 3M 769F Flap Disc is a high-performance zirconia abrasive disc with 3M Precision-Shaped Grain that cuts faster than conventional aluminum oxide and alumina zirconia flap discs. It has a T27 attachment for use with right angle grinders, disc sanders and disc grinders.
Features (Click to expand):
Diameter: 4-1/2"
Center hole diameter: 7/8"
Grit: 60+
Color: Purple
Backing weight: YF
Attachment: T27
Max speed: 13,300 RPM
004