Englund Marine | FLEXIBLE BELT LACING 24"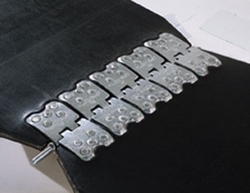 FLEXIBLE BELT LACING 24"
Item Number FLE-R5SSE24600
Mfg. Part Number R5S-SE-24/600
The Flexco SR Rivet Hinged Fastener is ideal for rubber piled and PVC solid woven belting and for worn belts un-fit for vulcanized splices. It has a low-profile, Scalloped Edge design that reduces exposure to cleaner blades, skirt rubber, and return idlers. Its self-setting rivets are in staggered pattern for maximum holding ability without damage to belt carcass fibers. It is for heavy duty use on underground and surface mining, coal and hard rock, asphalt plants, pulp and paper, sand and gravel plants, and other demanding applications.
Features:
Belt thickness after skiving: 7/32 - 7/16"
Minimum pulley diameter: 9"
Belt manufacturer maximum PIW (kN/m) rating: 450 PIW
Belt width: 24"
Stainless type 316
Built-in viewport removing the hinge pin
004