Englund Marine | FLEXIBLE CURVED BONING KNIFE 6"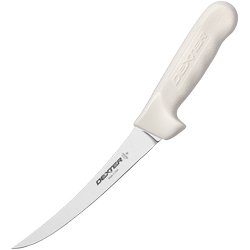 FLEXIBLE CURVED BONING KNIFE 6"
Item Number DEX-S131F-6PCP
Mfg. Part Number 01483
The Dexter-Russell Sani-Safe Curved Flexible Blade Boning Knife is designed to remove bones from meat and for skinning fish. It features a stainless, high-carbon DEXSTEEL blade and feature a textured, slip-resistant, easy to clean polypropylene handle that whistands high and low temperatures. The handle also has a protective finger guard. This knife has an impervious blade-to-handle seal that provides high sanitary qualification and is NSF certified. Made in the USA.
Features (Click to expand):
Blade length" 6"
Handle length: 5"
Overall length: 11"
004