Englund Marine | HEAVY DUTY CHEST BOX 36"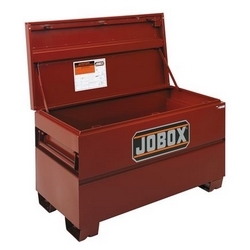 HEAVY DUTY CHEST BOX 36"
Item Number JOB1-652990
Mfg. Part Number 1-652990
Jobox Heavy Duty Chest Boxes feature Site-Vault, a 3-point, bolt cutter proof lock engagement system for secure storage that will not pry-open or bend. They are constructed of 12 gauge steel with a full length A-frame reinforced lid bolster, recessed handles, 14 gauge welded steel hinges and a reinforcing channel. They are equipped with locking lid arms, Grip Rite lid channel and E-Z Loader Skid Bolsters that allow them to be fork-lifted from all 4 sides.
Sizes (Click to expand):
JOB1-652990: 36"L x 20"W x 23-3/4"H, 8.3cu/ft
JOB1-654990: 48"L x 24"W x 27-3/4"H, 15.4cu/ft
004