Englund Marine | HEAVY DUTY U-JOINT PULLER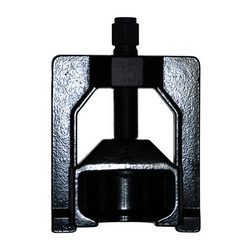 HEAVY DUTY U-JOINT PULLER
Item Number CVT199
Mfg. Part Number 199
The Cal-Van Tools Heavy Duty U-Joint Puller disassembles seized U-joints on most Class 7 and Class 8 trucks and machinery. It is designed to use with up to a 1" impact tool and will not damage the driveshaft, yokes, joints or bearing cups.
Features (Click to expand):
Size: 12.5" x 9" x 4"
Weight: 12 lbs.
Applications (Click to expand):
U-Joints with bearing cups 1.5? to 2.2? O.D.
Spicer 1610, 1710, 1760, 1810, 1880 Series
Spicer SPL 140, 170, & 250 Life Series
Meritor (Rockwell) 16N, 17N, 18N, 1710 Series
Meritor RPL 20, 25 Permalube Series
004