Englund Marine | IMPACT WRENCH 3/4"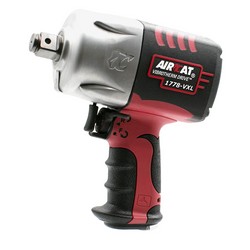 IMPACT WRENCH 3/4"
Item Number ACA1778-VXL
Mfg. Part Number 1778-VXL
The Aircat 3/4" Vibrotherm Drive Composite Impact Wrench features Vibrotherm Drive impact wrench mechanism that reduces vibration levels and increases the life of the mechanism. It produces 1,450 ft.lb. of maximum torque and 1,700 ft.lb of loosening torque. This tool also is equipped with the Aircat muffler system for low noise levels.
Features (Click to expand):
Length: 7.4"
Weight: 7.4 lbs.
Square drive: 3/4"
Loosening torque @ 90 PSI: 1,700
Free speed: 5,400 RPM
Impacts per minute: 1,300 IPM
Noise level: 94 d(B)A
Vibration level: 6.5 m/sec2
Bolt capacity: 1"
Air inlet: 3/8" NPT
Hose size: 1/2"
004