Englund Marine | INFORMATION PLAQUES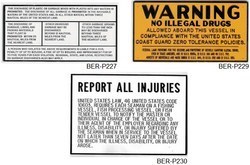 INFORMATION PLAQUES
Bernard Engraving Information Plaques comply with federal and USCG rules for commercial vessels and vessels over 26' in length. The "Illegal to Dump" and "Report All Injuries" plaques feature black lettering on white background while "No Illegal Drugs" has black letting on a yellow background. Each plaque comes with easy to apply adhesive backing.
Sizes:
P227: 9-1/4" x 4-1/2"
P229: 6-3/4" x 4"
P230: 8-5/8" x 5-7/8"