Englund Marine | MIDGET CUTTTER 15/16"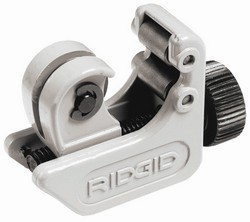 MIDGET CUTTTER 15/16"
Item Number RID104
Mfg. Part Number 32985
The Ridgid Tool Company Close Quarters Tubing Cutter is designed specifically for use in restricted spaces on small diameter tubing. This cutter can be used for hard and soft copper, aluminum, brass, and plastic. It has a strong lightweight slide and wheel housing, large knurled feed screw knob, and grooved rollers for close-to-flare cuts.
Features:
Length: 7"
Pipe capacity 3/16" - 15/16"
Cutter wheel: E-3469
004