Englund Marine | OPT MARINE D/CYCLE 34 12V 55 AH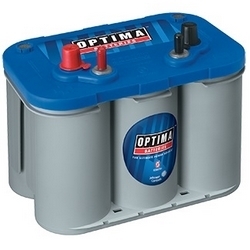 OPT MARINE D/CYCLE 34 12V 55 AH
Item Number BAT-OPT-D34M
Mfg. Part Number OPT-D34M
Optima Bluetop Marine Starting/Deep Cycle Battery is a high performance AGM battery with a fast recharge time and long run time. It has a high purity lead/tin alloy plate with wound cell configuration that uses SPIRAL CELL technology. Can be mounted in any position and are ideal for boat and RV applications.
Specifications (Click to expand):
| GROUP SIZE | SIZE | WEIGHT | CCA @ 0 DEG | RC @ MIN 25A | AH @ 20 HRS |
| --- | --- | --- | --- | --- | --- |
| 34 | 10" x 7" x 8" | 43.5 lbs. | 750 | 120 | 55 |
CCA
Cold Cranking Amps - The discharge load in amperes which a new, fully charged battery can maintain for 30 seconds at 0 F at a voltage above 1.2 v/cell
AH
Ampere Hour Capacity - A unit of measurement for electron flow or current through an electrical circuit for a certain period of time. The 20 hour rate is a BCI sanctioned rating expressing ampere hours required to achieve an end voltage of 1.75 v/cell at 80 degrees Fahrenheit, and represents the batteries maximum capacity. The 5 hour rate is based on IEC (International Electrotechnical Commission) temperature standard of 30 degrees Celsius (86 degrees Fahrenheit)
RC
Reserve Capacity - The number of minutes a battery can be discharged at the specified rate (25, 56 or 75 amps) at 80 degrees Fahrenheit and maintain a voltage above 1.75 v/cell.
Additional Regulation/Warning Info (Click to expand):

DANGER: Lead Acid Batteries contain: Lead, Sulfuric Acid (Electrolyte), Lead compounds and Arsenic.

WARNING: This battery, battery posts, terminals and related accessories can expose you to chemicals including lead, lead compounds and other chemicals which are know to the state of California to cause cancer and birth defects or other reproductive harm. Wash hands after handling. For more information go to: www.P65warnings.ca.gov.

WARNING: Risk of fire, explosion, or burns. Do not disassemble or incinerate. Not recommended for inverted use. Follow product instructions. High voltage: risk of shock. Do not touch uninsulated terminals or connectors. Do not remove vent valve.
004