Englund Marine | PADDLE SWITCH ANGLE GRINDER 4.5"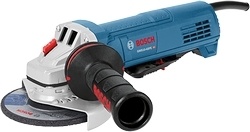 PADDLE SWITCH ANGLE GRINDER 4.5"
Item Number BOS-GWS10-45PE
Mfg. Part Number GWS10-45PE
The Bosch 4-1/2" Ergonomic Paddle Switch Angle Grinder features a narrow grip zone and a multi-grip paddle switch for user comfort, control and multiple grip options. It has a 10 Amp motor to produce 11,000 no-load RPM for maximum power in grinding and cutting applications. This tool has epoxy-coated field windings, double-sealed gear housing and a direct-motor cooling system for long life. The spiral bevel gears provide smooth power transmission and directed air flow to divert dust and debris from the gear housing. Other features include an adjustable tool-free guard with multiple fixed-adjustment settings and an auxiliary handle for additional control during use.
Features (Click to expand):
Size: 4.1"Hx 11.1"L x 5.1"W
Weight: 4.4 lbs.
Wheel diameter: 4.5"
Spindle thread: 5/8"-11 UNC
Amperage: 10
No load RPM: 11,000
Rating: 120 Volt
Includes wheel guard, flange kit and spanner wrench
004