Englund Marine | PADDLE SWITCH GRINDER 5" SJS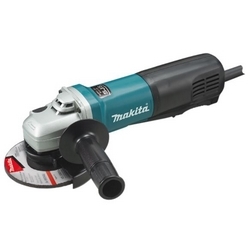 PADDLE SWITCH GRINDER 5" SJS
Item Number MAK-9565PC
Mfg. Part Number 9565PC
The Makita 5" SJS High-Power Paddle Switch Angle Grinder is a 13 Amp paddle switch tool that features a labyrinth construction design that seals the motor and bearing from dust and debris, as well as a protective zig-zag varnish to seal the armature. It has SJS technology mechanical clutch system that helps prevent motor and gear damage by allowing the drive shaft to slip if the wheel is forced to stop. This tool also has a large, flush mount paddle switch and a large cooling fan to pull more air through the motor, maintaining a lower operating temperature.
Other features include spiral bevel gears for smoother rotations and a more efficient transfer of energy and a spring loaded metal sealed drive bearing is engineered to prevent dust and debris from penetrating drive bearing. The grinder is equipped with electrical current limiter, soft start, constant speed controls and comes with a 2-position side handle and a tool-less wheel guard.
Features (Click to expand):
Overall length: 12-1/8"
Weight: 5.3 lbs.
13 Amp motor
No-Load speed: 10,500 RPM
Spindle thread: 5/8"-11 NC
Corded
Lock-off capabilities
Body grip/paddle switch
Includes (Click to expand):
5" x 1/4" x 7/8" INOX Grinding Wheel, 36 Grit (A-95962)
Side Handle (153489-2)
4-1/2" Tool-less Wheel Guard (135107-4)
Inner Flange (224399-1)
Lock Nut (193465-4)
Lock Nut Wrench (782424-9)
Additional Regulation/Warning Info (Click to expand):

WARNING: Some dust created by power sanding, sawing, grinding, drilling, and other construction activities contains chemicals known to the State of California to cause cancer, birth defects or other reproductive harm. Some examples of these chemicals are: Lead from lead-based paints, crystalline silica from bricks and cement and other masonry products, arsenic and chromium from chemically-treated lumber
Your risk from these exposures varies, depending on how often you do this type of work. To reduce your exposure to these chemicals: work in a well ventilated area, and work with approved safety equipment, such as those dust masks that are specially designed to filter out microscopic particles.
003