Englund Marine | PESCARO HEAVY DUTY COOLERS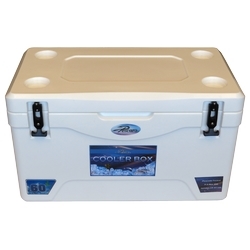 PESCARO HEAVY DUTY COOLERS
Pescaro Cooler Boxes have heavy duty insulated walls with heavy duty hinges and rubber latches to close the lid.
Outer Dimensions (Click to expand):
PES-CBR25L (Oval): 17.3/4" H x 21-1/8" W x 14.25" D
PES-CB28L: 13.25" H x 21.5" W x 12.25" D
PES-CB38L: 15" H x 23.75" W x 13" D
PES-CB60L: 17" H x 28.25" W x 16" D
PES-CB80L: 18.5" H x 29.5" W x 17" D
PES-CB110L: 19.5" H x 33.5" W x 18.5" D
PES-CB125L: 20" H x 45" W x 19" D
00P
We are outdoor people, have used all of the "Super Coolers". We find the Pescaro superior to all the rest. Meat frozen solid after a week in Sept. archery camp. Finish easier to clean than all the rest. We left two brand "Y" and one brand "E" at Thrift stores. A 60 Ltr. and an 80 Ltr. Pescaro are all we will ever need in our lifetimes. Nice work Englund!
4 out of 5 people found this review helpful. Did you find this review helpful? Yes / No