Englund Marine | RUBEX PROP SS 3B 16" 13" RH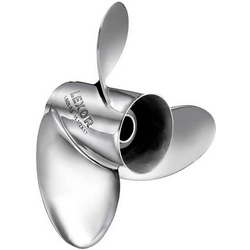 RUBEX PROP SS 3B 16" 13" RH
Item Number SOL9571-160-13
Mfg. Part Number 9571-160-13
The Solas Rubex L3 Stainless Steel Propeller features a large diameter and blade area and is ideal for use with big boats with mid to top RPM range. It provides good fuel economy for offshore boats. This propeller is constructed by an investment casting process which increases stability and includes corrosion resistant materials to protect from salt water damage. Interchangeable Rubex Hub Kit not included.
Click on the "Solas Prop Finder" link at the bottom of this web page to find the correct replacement propeller by engine manufacturer, HP, model and year.
Specifications (Click to expand):
| SERIES | HP | GEARCASE | EXHAUST |
| --- | --- | --- | --- |
| E | 115 & Up | 4-3/4" | Thru Hub |
MATERIAL
# BLADES
DIAMETER
PITCH
ROTATION
Stainless Steel
3
16"
13"
Right Hand