Englund Marine | RUBEX PROP SS 4B 15" 24" RH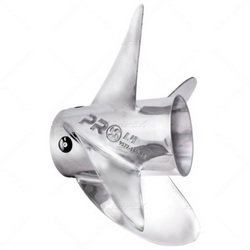 RUBEX PROP SS 4B 15" 24" RH
Item Number SOL9577-150-24
Mfg. Part Number 9577-150-24
The Solas Rubex PRO L4 Stainless Steel Propeller features a high precision blade for high performance, longer barrel, aggressive camber design and the SAV (Solas Adjustable Vent) System. This prop is made of high chromium stainless steel with a modified leading edge for a smoother cut through the water. It is for use with interchangeable Solas Rubex rubber hubs and is designed for horsepowers of 200HP and up. Interchangeable Solas Rubex hub kit sold separately.
Click on the "Solas Prop Finder" link at the bottom of this web page to find the correct replacement propeller by engine manufacturer, HP, model and year.
Specifications (Click to expand):
| SERIES | HP | GEARCASE | EXHAUST |
| --- | --- | --- | --- |
| E | 115 & Up | 4-3/4" | Thru Hub |
MATERIAL
# BLADES
DIAMETER
PITCH
ROTATION
Stainless Steel
4
15"
24"
Right