Englund Marine | SANDSHARK ULTIMATE ANCHORS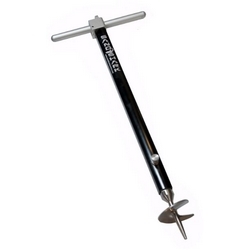 SANDSHARK ULTIMATE ANCHORS
Sandshark Ultimate Anchors are a portable auger anchoring system designed to anchor boats as a primary or secondary anchor to the shore or shallow water. They are made with a 1" solid stainless steel auger shaft with a stainless steel blade and a 1-1/2" anodized aluminum housing tube. The shafts have a 2-stage extension and can be driven 2-3' into the sand or gravel for a secure hold. The stainless steel handle crank has a wingspan of 16" when fully open and will fold down for storage. Each anchor comes with a rip-stop case with foam insert for storage.
Sizes (Click to expand):
PART #
SIZE
APPLICATION
EXTENDED
LENGTH
COLLAPSED
LENGTH
AUGER SIZE
GFP-SSUPWC
PWC
Most PWCs and Jet Skis
31"
17"
3"
GFP-SSULG
Large
Boats or Pontoons up to 24'
48"
30"
3.5"
GFP-SSUXL
X-Large
Boats or Pontoons over 24'
54"
40"
4"