Englund Marine | SIDE SWITCH ANGLE GRINDER 4.5"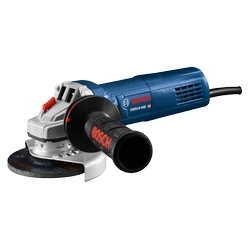 SIDE SWITCH ANGLE GRINDER 4.5"
Item Number BOS-GWS10-45E
Mfg. Part Number GWS10-45E
The Bosch 4-1/2" Ergonomic Angle Grinder is a corded tool that features a powerful 10 Amp motor and a narrow grip zone for user comfort and control. This angle grinder produces up to 11,000 no-load RPM for grinding and cutting applications, and is made with epoxy-coated field windings, double-sealed bearings and direct-motor cooling for long tool life. It has spiral bevel gears, auxiliary handle, lock-on slide switch and a tool-free guard with multiple fixed-adjustment settings.
Features (Click to expand):
Size: 11.1"L x 4.1"H x 5.1"W
Weight: 4.3 lbs.
Wheel diameter: 4-1/2"
Amperage: 10
Voltage: 120
Spindle thread: 5/8-11 UNC
No load RPM: 11,000
004