Englund Marine | STAINLESS STEEL POLISHING KIT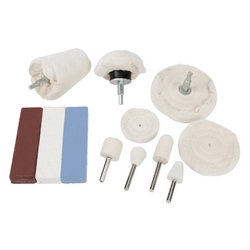 STAINLESS STEEL POLISHING KIT
Item Number PER-W50091
Mfg. Part Number W50091
The Performance Tool Stainless Steel Polishing Kit is designed for use with stainless steel, chrome and iron. It includes 3-stage polishing compounds and pads, felts and wheels with a 1/4" round shaft for use with a power drill.
Includes (Click to expand):
4-oz Each: Brown (first stage), white (second stage) and blue (final polish) emery polishing compounds
Polishing pads: 3" Mushroom and 2-1/2" tapered cylinder
Polishing felts: 3-1/5" Bullet, 2-1/5" conical, 2-3/10" cone and 2-3/10" pear
Polishing wheels: 2", 3" and 4"
004