Englund Marine | SUB-COMPACT HMR DRILL/IMPACT KIT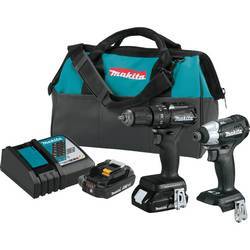 SUB-COMPACT HMR DRILL/IMPACT KIT
Item Number MAK-CX202RB
Mfg. Part Number CX202RB
The Makita 18V LXT Sub-Compact Brushless Cordless Combo Kit features an ultra-compact 2-speed brushless hammer driver-drill and brushless impact driver. The driver-drill has 2 speed settings including the percussive hammer-drill setting for drilling into masonry and brick. The variable speed impact driver also has two speed settings with Assist Mode (A-mode) which helps to eliminate "screw cam-out" and "cross threading" by driving at low speed until tightening begins. These tools have electronically controlled BL brushless motors that allow the motor to run cooler and more efficiently, as well as matching torque to optimize battery life.
They are equipped with STAR Protection Computer Controls which exchanges data with a Makita 18V LXT Lithium-Ion batteries with a Star Symbol in real time to protect against over-loading, over-discharge and over-heating. They also have Extreme Protection Technology for dust and water resistance, a rubberized soft grip handle, ergonomic design and dual LED work lights. The kit also includes two 18V Lithium-Ion batteries and a Rapid Optimum Charger. The charger communicates with the battery's built-in chip to optimize battery life and controlling the current, voltage and temperature. It also has a built-in fan that circulates air through the battery to keep the battery cool for faster charging.
Features (Click to expand):
XPH11ZB Features:

Length: 6-15/16"
Weight: 2.9 lbs.
Capacity : 1/2" Steel / 1-7/16" Wood / 1/2" Masonry
No Load Speed (var. 2 spd) : 0 - 500 / 0 - 1,700 RPM
Blows Per Minute (2 speed) : 0 - 7,500 / 0 - 25,500 BPM
Maximum Torque (in.lbs.) : 350 in.lbs.

XDT15ZB Features:

Length: 5-5/16"
Weight: 2.6 lbs.
Hex Shank : 1/4"
No Load Speed (var. 2 spd) : 0 - 1,300 / 0 - 3,000 RPM
Impacts Per Minute (var. 2 spd.) : 0 - 1,600 / 0 - 3,900 IPM
Maximum Torque (in.lbs.) : 1,240 in.lbs.
Includes (Click to expand):
XPH11ZB 18V LXT Sub-Compact Brushless 1/2" Hammer Driver-Drill
XDT15ZB 18V LXT Sub-Compact Brushless Impact Driver
(2) BL1820B 18V LXT Lithium-Ion Compact 2.0Ah Battery
DC18RC 18V LXT Lithium-Ion Rapid Optimum Charger
Tool Bag
004