Englund Marine | SWITCH KIT F/TRIM TAB DBL ROCKER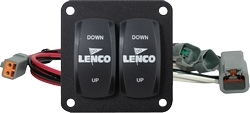 SWITCH KIT F/TRIM TAB DBL ROCKER
Item Number LEN10222-211D
Mfg. Part Number 10222-211D
The Lenco Marine Double Rocker Switch Kit is used as a side-by-side 12 volt switch unit on the console. This low profile rocker switch is completely waterproof and comes with a quick attach wire harness and 36" power pigtail to simplify installation.
Features:
Hole cut out: 2-1/4"
Overall size: 2-3/4" x 2-3/4"