Englund Marine | TRIM TAB KITS EDGE MOUNT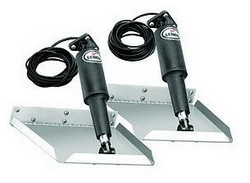 TRIM TAB KITS EDGE MOUNT
Lenco Marine Edge Mount Trim Tab Kits are designed to improve the performance, safety, and ride of the boat. The Edge Mount actuators mount at the trailing edge of the plane requiring four inches less transom height than standard mount trim tabs. The trim tabs kits have reliable ballscrew design hydraulics, powerful instant response electric actuators, and 12-gauge 304 stainless steel trim tab planes. They are fully submersible with plug & play waterproof Deutsch connections and high-impact corrosion-proof mounts. Switches are sold separately.
Features (Click to expand):
LEN15014-101 Minimum transom height 13.5"
LEN15015-101 Minimum transom height 11"
LEN15016-101 Minimum transom height 11"
Hinge height 2"
Kit Includes (Click to expand):
Two 12V actuators with 6' leads
Two 20' actuator extension harnesses
Two SS trim tab blades
Two upper mount brackets with seal
Two lower mount brackets
All SS mounting hardware
Specifications (Click to expand):
| PART # | MEASUREMENT L x W | BOAT LENGTH |
| --- | --- | --- |
| LEN15014-101 | 9" x 12" | 16'- 25' |
| LEN15015-101 | 12" x 9" | 14'- 18' |
| LEN15016-101 | 12" x 12" | 17'- 30' |