Englund Marine | TUBING CUTTER 8"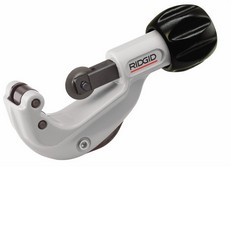 TUBING CUTTER 8"
Item Number RID150
Mfg. Part Number 31622
The Ridgid Tool Company Constant Swing Tube Cutter is designed with a telescoping feed screw to maintain the cutter at the same length for all tubing diameters. This cutter has grooved rollers for close-to-flare cuts, is useful in tight spaces, and cuts copper, brass, aluminum tubing, as well as thin-wall conduit. It is made of high-strength zinc alloy, has an enclosed feed screw, and offers quick cutting and wheel replacement.
Features:
Length: 8"
Capacity: 1/8" - 1-1/8"
Cutter wheel: E-3469
004