Englund Marine | TUBING CUTTER 9"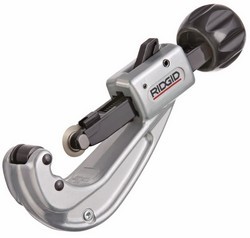 TUBING CUTTER 9"
Item Number RID151
Mfg. Part Number 31632
The Ridgid Tool Company Quick Acting Tubing Cutter is used for fast and efficient cutting of plastic pipe and metallic tubing. These cutters have an I-beam construction, hardened wear surfaces, and thrust bearing slide assemblies for smooth operation. They have fold-away reamers, large ergonomic knobs, and easy change wheel pins.
Features:
Length: 9"
Cutter wheel: E-3469