Englund Marine | VARIABLE SPEED ANGLE GRINDER 5"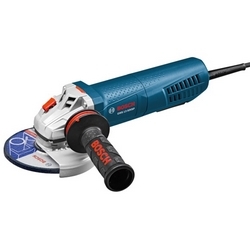 VARIABLE SPEED ANGLE GRINDER 5"
Item Number BOS-GWS13-50VSP
Mfg. Part Number GWS13-50VSP
The Bosch 5" Variable Speed Angle Grinder with Paddle Switch features a directed air flow that keeps dust away from vital components and direct-motor cooling for high overload capabilities. The grinder has two variable speed settings: 11,500 RPM and 2,800 RPM to match speed to application. It has a two position Vibration Control side handle, burst protection quick tool-less, burst-protection adjustable guard and a large spindle lock for quick disc changes. It is equipped with an integrated acceleration sensor to limit inadvertent recoil and restart protection to protect against unintended startup. The tool also features Service Minder that is designed to stop the grinder if preventative maintenance is required.
Features:
Size: 12-1/2"L x 4"W
Wheel size: 5"Dia
Weight: 5.3lbs
120 Volt
13 Amp
No load RPM: 11,500
Spindle thread: 5/8"-11 UNC
Carbon brushes
Includes:
Backing Flange
Lock Nut
Spanner Wrench
Grinding Guard
Vibration Control Side Handle