Englund Marine | WELDERS BOX 30"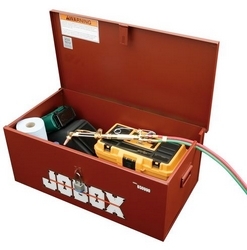 WELDERS BOX 30"
Item Number JOB650990
Mfg. Part Number 650990
The Jobox Welders Box is constructed of heavy duty 16 gauge steel with a welded padlock hasp locking system and side-lift handles. It also has extra strong bottom bolsters, power supply knockout hole and a cut-out for connected torch hoses.
Size:
JOB1-652990: 30"L x 16"W x 12"H, 3.3cu/ft
004