OR Groundfish/Bottomfish Regulations
Oregon Rockfish Regulations & Information
---
Offshore Midwater Fishery
The Offshore Midwater Fishery is a new fishing opportunity to target midwater rockfish, outside of the 40 fathom regulatory line and with longleader gear only. The gear required consists of a fishing line and tackle configuration with a minimum of 30 feet of line between the terminal weight (sinker) and the lowest hook, and a non-compressible float affixed above the top hook. Lures must be less than 5" in length, and bait is prohibited. Read more about the Offshore Midwater Fishery: ODFW Offshore Midwater Fishery Information
Englund Marine offers a complete kit, the Pescaro Deep Down Dropper, to comply with the new 2018 Offshore Midwater Fishery requirements. These kits are available in store only. Learn more about how it works: Deep Down Dropper Kit Information
Please call or visit one of our Oregon stores to purchase the Deep Down Dropper Kit:
Astoria, Or:

503-325-4341
95 Hamburg Ave / Astoria, OR / 97103

Newport, OR:

541-265-9275
880 S.E. Bay Blvd / Newport, OR / 97365

Charleston, OR:

541-888-6723
91146 Cape Arago Highway / Coos Bay (Charleston), OR / 97420
---
Beginning Jan. 1, 2017, descending devices are mandatory. Any vessel fishing for, or possessing, bottomfish (groundfish) in the ocean must have a functional descending device onboard, and the device must be used when releasing any rockfish outside of 30 fathoms. A functional descending device is one that is ready to be used.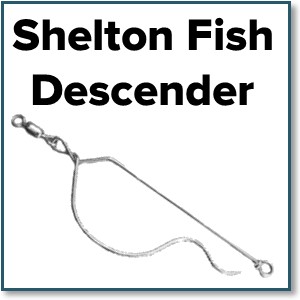 ---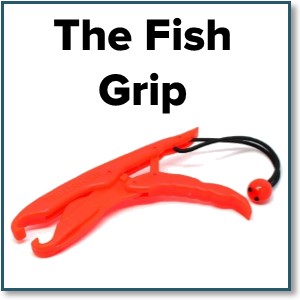 The Fish Grip is a jaw clamp that provides a secure and humane grip when handling or landing a fish. It can be rigged with a rubber band and a hand line to manually release when a fish is descended to the correct depth.
Click here to watch a video about using this product >>
---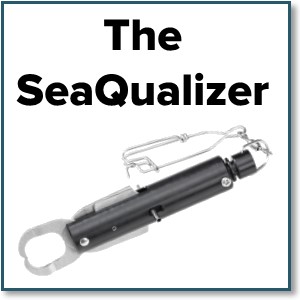 The SeaQualizer is a jaw clamp that is designed to release automatically at a pre-specified depth. It has three depth setting (50'/100'/150') to choose from in order to release the fish at the correct depth. This clamp does not require any tugging to release, and allows for multiple SeaQualizers to be attached to a single line.
Click here to watch a video about using this product >>
---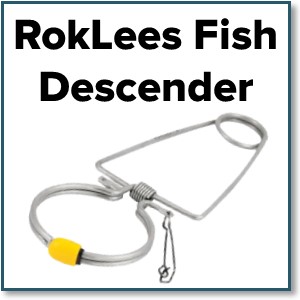 The RokLees Fish Descender is a jaw clamp with rubber tabs that prevent additional injury to the fish being released at depth. Attach the device to fishing line and weight, then to the fish's jaw. Once the weight has brought the fish to depth (at least 1/3 as deep as capture), jerk the line to release the fish. Weight not included.
Click here to watch a video about using this product >>
---
Sign up for our email list and get specials, announcements, class opportunities and more delivered directly to your inbox! Click here to be added to our email list or text EMIS1944 to 22828 to sign up.