_Surfperch | Englund Marine & Industrial Supply

Englund Marine & Industrial Supply is your #1 spot for surfperch gear!
Sport fishing for surfperch (aka surf perch or sea perch) is a fun and easy to learn sport that is growing in popularity throughout the Pacific Northwest. Englund Marine is here to help you set up for a fun day in the surf: from getting your license to rigging up and learning how to fish for surfperch, we have you covered.
---
Regulations & Licensing
Before you head out, make sure you know what you need to legally fish for surfperch in the state you are in. We've gathered the important information in one place so you can easily access it. Disclaimer: The following information is based off of the rules at the time of writing, regulations are subject to change. While we do our best to keep fully up to date, the license holder is ultimately responsible for being aware of any changes to the rules and regulations.
General Information:
Surfperch fishing is open year-round in Washington, Oregon, and California.


Pregnant surfperch:

While not required, it is recommended to release pregnant females back into the ocean to keep the population healthy. A pregnant female will have a rounded bloated belly.
If you plan to keep a pregnant surfperch, squeeze and release the offspring back in the ocean as safely as possible. If the female gives birth in your possession, each offspring may count toward your limit.
Oregon Information (Click to expand):
Licensing Info:
General Oregon angling license required. Purchase an Oregon license online here.


Englund Marine in-store licensing:

Astoria: 1 Day resident angling
Newport: 1 Day resident angling
Charleston: None



ODFW licensing information:

Astoria: 503-325-2462
Newport: 541-867-4741
Charleston: 541-888-5515



Regulations:
Daily limit: 15 Fish aggregate of all species per day.
Due to lack of extensive population studies, ODFW recommends keeping only what you need (up to 15 fish) and practice catch and release afterward.
Washington Information (Click to expand):
Licensing Info:
Regulations:
Daily possession/bag limit of 12 (Marine areas 1-4), except for shiner perch where itís a 15 bag limit.
Daily possession/bag limit of 10 (Marine area 5, Sekiu and Pillar Point), except for shiner perch where itís a 15 bag limit.
No minimum size limit.
California Information (Click to expand):
Licensing Info:


Englund Marine in-store licensing:

Crescent City: Fresh and saltwater sport fishing license
Eureka: None



Regulations:
Daily limit: 20 Fish in combination of all species (except shiner perch), with not more than 10 fish of any one species.
Shiner surfperch daily limit: 20 Fish.
Redtail surfperch have a minimum size limit of 10.5" in total length.
---
Get Set Up With The Gear You Need
You don't need much specialized equipment to get started fishing for surfperch. A good rod and reel, surfperch rig and a pair of waders will get you started! We've also added some recommended gear to keep you comfortable on the shore.Click here to find the closest Englund store to you.
Fishing Gear:
We've picked the brains of our expert store staff to bring you these tested and approved products for surfperch fishing. While each region is different, we feel confident these items are the best for beginners. Check in with your local Englund store for additional local tips on bait and leader weight! If you fish in California, you must use the California Approved weights listed below.
Rod & Reel: Although surfperch are smaller fish (usually around 2 lbs.), you will need heavy tackle to fish in the heavy surf these fish are found in. We suggest a longer rod (9'+) able to handle up to a 6 oz weight and a reel able to hold 200-300 yards of 15 to 30 pound monofilament line. Lighter weight rods can also be used in calmer surf conditions.
Terminal Tackle: A typical set up (see figure to the right) includes two #4 or #2 hooks, double spreader with swivels and a sinker. Pyramid sinkers are the most popular as they are easy to cast and resist rolling in the surf. Use a weight (about 2-6 ounces) that will keep your rig in your target area in the surf. Pro Tip: See the informative video below for how to set up your own surfperch rig.
Bait: Plastic baits, like Berkley Gulp! Sand worms and shrimp are a great go-to for surf fishing, they can be secured to your hooks with stretch thread and reused over and over again. You can also use live bait that you have collected at low tide or purchased from an Englund store or other places where bait is available.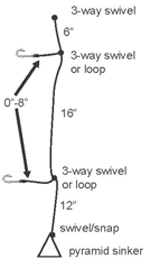 Shop Now:
Our Charleston store put this video together using the products listed above and detailing how to get your rig all set up for surf fishing.
Other Recommended Gear:
While the following products are not required for surfperch fishing, we highly recommend having them on hand due to the changeable nature of weather on the coast. And don't forget to pick up an Englund Marine ball cap before you hit the beach!
Pro Tip: Pick a pair of waders with boots for secure footing on sand, rock and other slippery underwater debris.
Shop Now:
---
How To Fish For Surfperch
Surfperch are slim, saucer-shaped fish that can reach up to 2 pounds. They are abundant and can be found in hundreds of locations along the beaches in Washington, Oregon, and California. Surfperch usually feed during lowlight conditions.
The best time to fish is during an incoming tide, preferably minus (also known as negative) tides or an hour or two before high tide. You can find tide information online or in a Tide Book, which can be found at any Englund Marine store, sporting goods store, convenience store and the like.
As the tide comes in, bait that is hunted by perch is stirred up and the fish come in to feed. Looking for places where two waves collide is a good place to start. Other indicators to look for are:
Depressions or deep holes that could hold fish, especially troughs (long dips in the sand parallel to the shore).
Rocky areas in the sand and sandy areas near jetties.
Beach areas where the shore cuts inwards or in steeply sloped shores where waves break hard.
Areas where two surfs come together.
If all else fails, cast the weight past the first and second wave breaker
Now that you know what you need to catch surfperch and where to find them, here are the basic fishing tips and tricks for surfperch fishing.
We recommend plastic baits, like Berkley Gulp! Sand worms and shrimp. You can also use mole crabs, marine worms, sand shrimp, mussels, and similar baits based on availability and personal preference. Other options include gathering your own baits during low tide such as sand crab, worms and shrimp.
Cast past the area you have located as potential fish-holding area, and slowly drag your rig toward the spot. When you have reached your target, pause while maintaining tension on the line. You can also slowly drag your rig through multiple targets to cover a larger area. Over time you will learn what works best for you and the location and conditions you are fishing in.
Pro-tip: Keep moving along the shore, it is a good idea to keep an eye out for the next hot spot as the surf is constantly changing!
There are a wide variety of surfperch in the ocean. Make sure you can identify what you catch:
---
Sign up for our email list and get specials, announcements, class opportunities and more delivered directly to your inbox! Click here to be added to our email list or text EMIS1944 to 22828 to sign up.