Englund Marine | AIRHEAD GNAR KWIKDRY VEST MEDUIM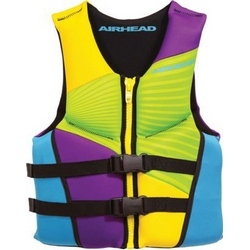 AIRHEAD GNAR KWIKDRY VEST MEDUIM
Item Number KWK10074M
Mfg. Part Number 10074-09-B
Airhead Adult Gnar Kwik-Dry Neolite Life Vests feature a NeoLite outer shell for lightweight durability that dries quickly and a NeoLite lining that dries quickly and is comfortable against the skin. Other features include two hidden 1.5" straps with quick-release buckles and front zipper closure. USCG Approved Type III / USCG/Transport Canada Approved Level 70 (no turn).
USCG has changed their labeling from Type Codes (Type I through Type V) to Performance Levels. These new labels are currently being phased in and your new life jacket may have the new or old labels during this period. The new label does not make the old labels obsolete.
Men's Life Vest Size Chart (Click to expand):
X-Small: 32.5"-35", 90+ lbs.
Small: 35"-37.5", 90+ lbs.
Medium: 37.5"-40", 90+ lbs.
Large: 40"-42.5", 90+ lbs.
X-Large: 42.5"-45", 90+ lbs.
2X-Large: 45"-47", 90+ lbs.
3X-Large: 47.5"-50", 90+ lbs.
004