Englund Marine | BALL VALVE LOCKOUTS - 4 LEGS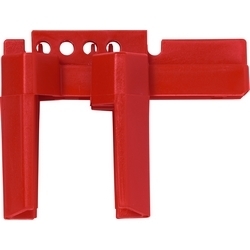 BALL VALVE LOCKOUTS - 4 LEGS
Abus 4 Legged Ball Valve Lockoutss block most common ball valves and feature 4 legs for a secure, exact grip around a lever. They mount over the pipe and lever, then attach with a padlock to prevent opening the valve during maintenance. These devices have 2 pieces for a custom fit and multiple holes to secure with a padlock. They are made of high-quality, non-conductive polypropylene.
Features (Click to expand):
ABL00452/V442: Small, fits pipe sizes 1"-1.25"
ABL00453/V448: Large, fits pipe sizes 2"-8"
00P