Englund Marine | BLUNT NOSE INFLATABLE BOAT COVER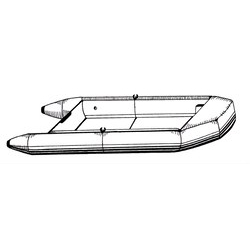 BLUNT NOSE INFLATABLE BOAT COVER
Carver Styled-to-Fit Boat Covers are designed for Blunt Nose Inflatable Boats and provide protection from the elements while traveling or in storage. They have a 1/4" heavy duty shock cord sewn into the hem for a snug fit with double stitch construction for lasting quality.
Not sure what size/style you need? Use the Carver Cover Selector link at the bottom of this page and follow the directions to find the right cover for your needs.
Features (Click to expand):
Fabric: Performance Poly-Guard
Grade: Superior
Color: Haze Gray
UV and mildew resistance
Breathable constrution allows interior moisture to escape
Specifications (Click to expand):
PART #
CENTERLINE
BEAM
CRV7INF8BP
60"
CRV7INF10BP
10'6"
66"
CRV7INF12BP
12'6"
70"
CRV7INF13BP
13'6"
74"
CRV7INF14BP
14'6"
74"
CRV7INF15BP
15'6"
76"