Englund Marine | CRESCENT TOOL BAG BACKPACK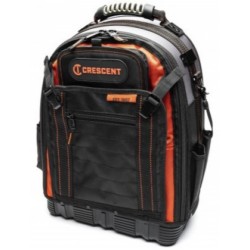 CRESCENT TOOL BAG BACKPACK
Item Number CSC-CTB1000
Mfg. Part Number CTB1000
The Crescent Tool Tradesman Backpack features a hard polypropylene base that is moisture resistant and protects the contents from tough job site conditions. The top is made of 16800 polyester with metal hardware and a bright orange interior to make tools stand out in low light. This pack has 4 exterior pockets, 34 interior pockets, large front adjustable pouch and inner sleeves to precent small items won't get stuck. Other features include an ergonomic handle, water bottle holder and an adjustable front pocket.
Features (Click to expand):
Size: 18"H x 10"W x 14"D
Weight: 8 lbs.
Usable space: 0.913 cu.ft.