Englund Marine | ELK 30"X24"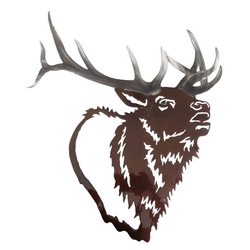 ELK 30"X24"
Item Number SMG-E30X24
Mfg. Part Number E30X24
The Steel Images Elk is a torched metal art piece, individually cut from steel, heated to bring out the color and powder coated for protection making the finished metal work a lovely addition to interior decor. It measures approximately 30" tall by 24" wide, with 4 loops on the back for mounting solidly. Color may very slightly from image due to the uniqueness of manufacturing process.