Englund Marine | ENGINE OVERHEAT DETECTORS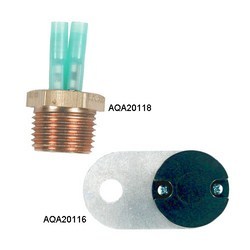 ENGINE OVERHEAT DETECTORS
Aqualarm Engine Overheat Detectors work with 12V, 24V and 32V. These 2 terminal, non-polarity, normally open detectors will close when engine temperature reaches 200 degrees F to activate visual and audible alarm devices.
Features:
AQA20116-Detector is bolt on type, ideal for metric applications
AQA20118-Detector is 1/2" MPT and attaches to the engine.