Englund Marine | GATE VALVE LOCKOUTS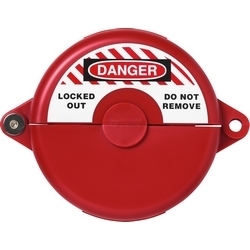 GATE VALVE LOCKOUTS
Abus Gate Valve Lockouts block access to a valve to prevent turning on accidentally. Each lockout holds one padlock and features a set breaking point on the top so an additional opening can be created for threaded valves. They are made of high-quality, non-conductive polypropylene.
Features (Click to expand):
ABL00362/V303: Fits valve sizes 1"-1.50"
ABL00364/V305: Fits valve sizes 2.50"-5"
00P