Englund Marine | INFANT WATER SPORTS VESTS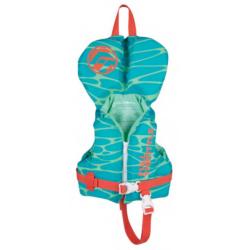 INFANT WATER SPORTS VESTS
Full Throttle Infant Water Sports Nylon Vests feature lightweight PE foam that contours to your wearer's body and won't hinder mobility. They have a 200 denier nylon oxford shell fabric with an adjustable belt and a leg strap for a secure fit. They contain no VOCs (Volatile Organic Compounds) and are environmentally friendly. U.S. Coast Guard approved life jacket.
USCG has changed their labeling from Type Codes (Type I through Type V) to Performance Levels. These new labels are currently being phased in and your new life jacket may have the new or old labels during this period. The new label does not make the old labels obsolete.
Features (Click to expand):
Capacity: Less than 30 lbs.